Job Postings

Post Your Jobs Where the Best Candidates Are
At Western, we seek to provide as many opportunities as possible for our students to have meaningful work experiences. By advertising your roles on our free job portal, CareerCentral, you can reach students from our 12 faculties and over 200 programs. This includes current students (undergraduate, graduate, and post-degree) postdoctoral scholars and alumni.
To post, you must have a CareerCentral account. To create your account, click here.
Forgot your password? Click here.
With CareerCentral You Can…
Post the Following Types of Employment Opportunities:
Jobs (New Graduate, Experienced, Summer, and Current Students)
Volunteer/Unpaid Opportunities
Internship/Co-op
Simplify Your Selection Process:
Highlight applicants for potential hire
Create Your Job Posting
Click on Job Postings in menu

If you're posting a position as part of our Internship/Co-op programs select that menu

Select the category of posting you would like to create

Click the Post a New Job button or Repost a Job to copy a past posting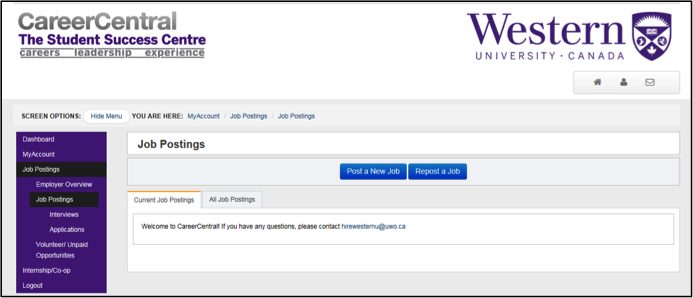 Complete the form.

Click the "Submit Job Posting for Approval" button at the very bottom of the page.

Postings will be screened within 2 business days. We will notify you via phone or email should we have any questions.

For your convenience, you can log in anytime to check the status of your posting or post additional roles.
Document Collection
If you select the Application Procedure, "Through CareerCentral", applicants will upload their application materials/documents (resume, cover letter, references, writing sample, unofficial transcript) to CareerCentral. You will be able to download the application packages from your account in CareerCentral.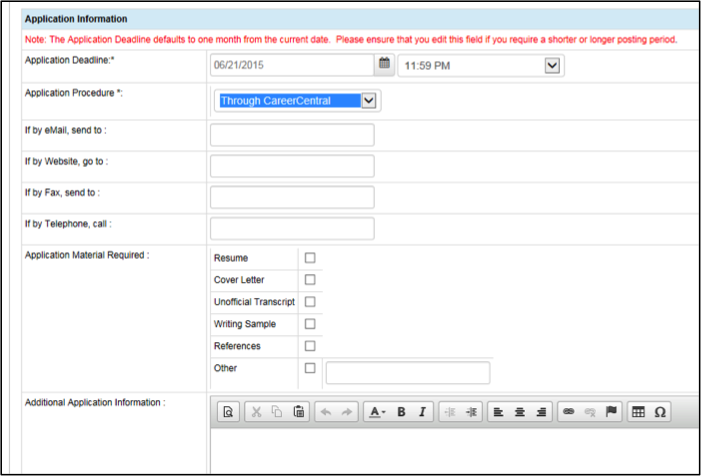 Interview at Western
In addition to posting roles through CareerCentral, we can also assist with your interview process. We will work with you to schedule your student interviews, and provide a quiet place to interview candidates in our dedicated on-campus interview suite.
For more information on how to book on-site interviews, please see our Interviews page.
Questions?
Please contact us at hirewesternu@uwo.ca or 519-661-3619