hirewesternu Career Fair 2022
Tuesday, October 4, 2022
10:00am - 3:00pm
Back in person!
Exact location TBD
Join us for Western's hirewesternu Career Fair! We're excited to welcome you back to campus to engage with student and alumni talent from our 12 faculties and over 200 programs.
At this fair you can promote new graduate, work integrated learning (internship, co-op, practicum), summer, and part-time opportunities.
NOTE: Proof of full vaccination or proof of medical exemption and a symptom self-assessment will be required for all company representatives and attendees at the event, per Western's current COVID-19 vaccination policy. The in-person format of the hirewesternu Career Fair is subject to change given recommendations from the local and federal health authorities.
Cost
Standard booth
$565 + HST 
Includes:
Your organization's booth on campus
Up to 4 representatives in your booth engaging with students and alumni
Up to 2 parking passes
Your organization listed on our student-facing landing page
The opportunity to share key challenges your organization is working on
 
Sponsorship
Looking to build your brand on campus? Consider becoming a fair sponsor! You can view our sponsorship opportunities here.
Registration
Register through Western Connect now!
Deadline
The official registration deadline is SEPTEMBER 22, 2022, however booths may sell out before then.
To ensure your spot, register early!
Cancellation and Refund Policy
Cancellations will not be accepted verbally, and must be emailed to: drestre@uwo.ca

Should an organization be eligible for a refund, the cancellation fee will be deducted from the registration cost, and the remaining amount will be returned within 5 business days.
| | |
| --- | --- |
| # of Business Days Before Fair | Cancellation Fee Amount |
| > 10 Business Days | $75 |
| 5-10 Business Days | $150 |
| <5 Business Days | No refund. Cancellation Fee is FULL registration cost |
Questions?
We're excited to have you join us! If you have questions, please contact Daniel Restrepo: drestre@uwo.ca
See highlights from the 2022 hirewesternu Virtual Winter Career Fair.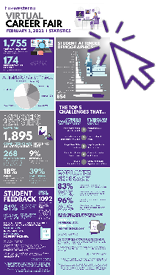 We will work with EDID Support Offices (Accessible Education, Indigenous Student Centre, Western International etc.) to ensure that there is representation from equity-deserving students from Western at Career Fairs.
Western has over 200 student groups, organizations, and clubs as well as an active Graduate Student Society, many of which are centered on diverse identities such as race, culture, gender, sexuality, neurodiversity, ability status, and more. We will work with these student groups on campus to ensure that there is representation from equity-deserving students from Western at Career Fairs.
If there are specific communities, populations, or student groups that you would like to reach out to for events or employment opportunities, please let us know and we will do our best to facilitate a connection. Please note that each student group has different mandates and their goals may vary year to year. Student clubs may choose the opportunities that they participate in or promote at their own discretion.
Email hirewesternu@uwo.ca or call 519-661-3619 to get started.