Degree to Career
What is the Degree to Career Web Site?
One of the most common concerns our office hears from students is 'what can I do with my degree?' Launching in January 2015, Western's new Degree to Career website helps students to answer this question! Students can search by their degree and program, identify their transferable skills, and see what industries and occupations are a potential fit.
To compliment this information we also want to feature YOUR organization and your specific job titles. The Canadian job market includes thousands of job titles. However, students are most often familiar with professions; careers with a formalized path and designation. We want students to start seeing and thinking about the diverse job titles and opportunities that exist.
We are proud to include you in this new initiative. Together, we will contribute to students' career development and ensure the on-going success of Western graduates in an increasingly competitive marketplace.
What is included?
With your registration, the Degree to Career website will include:
Your organization's logo
A paragraph about your organization
Job titles of your new graduate roles
Skills you look for in candidates
Your website
Your contact information (optional)
What does it look like?
To see what the entire site looks like click here to view the site. 
For an example of what your employer profile page would look like, see the City of London's profile as an example: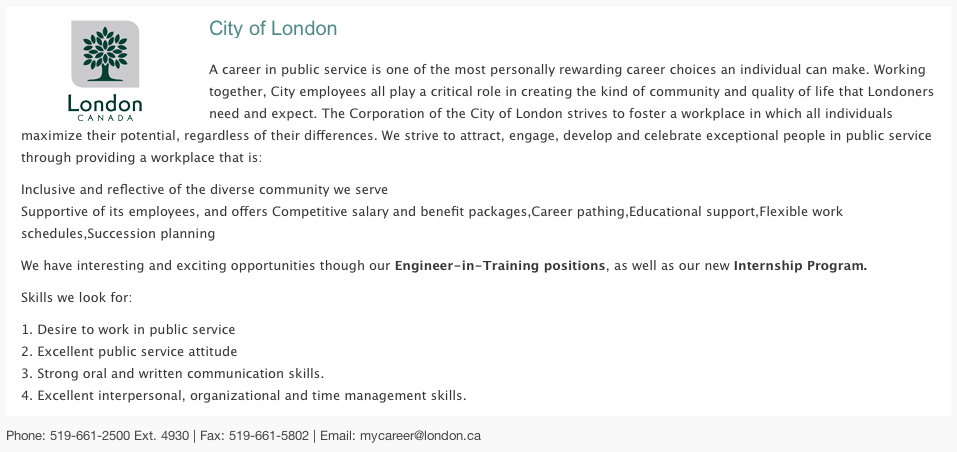 Cost?
The Student Success Centre is pleased to offer an introductory rate of $500 + HST for 1 year.
How do I Register?
To secure your placement on the Degree to Career website please follow the directions below:
Login to CareerCentral
Click on 'My Account' in the left sidebar
Click on 'Recruitment Events'
Click 'Register' under Degree to Career
Complete and submit the form
You will receive a confirmation by email
If you do not receive a confirmation email please contact hirewesternu@uwo.ca or 519-661-2111 x. 82683 to ensure that your registration is complete and that your spot is secured.
If you are a new user you must first create an account:
Go to CareerCentral
Click on 'Recruiters, Educators & Community Partners' in the top menu bar
Click 'Recruiter Registration'
Complete and submit the form
You will be logged into CareerCentral and can follow the directions above to register for the Degree to Career.
Note, our staff require a minimum of 2 weeks notice before your organization will appear on the website.