Career Fair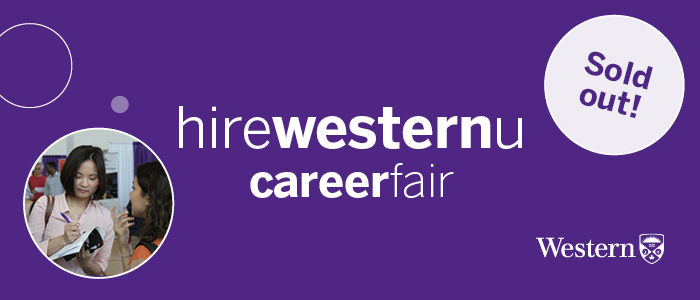 The hirewesternu Career Fair
Thursday, September 29 2016
11am - 4pm
(on-campus, parking is provided)
---
The Career Fair is now SOLD-OUT
You can register for our waitlist on CareerCentral.
---
At Western, we are committed to assisting the transition of our extraordinary students & alumni into the workforce. As part of this commitment, we hold our annual Career Fair every September. The Fair attracts current students from over 200 programs in 12 different faculties, with an approximate attendance of 1500…making this event an ideal way to attract Western talent, and expand your brand on-campus! 
---
Sponsorship Opportunities
All sponsorship opportunities are SOLD-OUT.
If you are interested in becoming a sponsor for the hirewesternu Job Fair on Thursday, January 26th, 2017, please contact Kate Baker, Employer Relationship Developer: kbaker25@uwo.ca or 519-661-2111 x82683
---
Cost
The fee for Registration is $565 + HST and includes:
8' wide by 8' deep curtained booth area (measurements are approximate)
6' draped table and chairs
One electrical outlet
Bottled Water distributed to you throughout the day
Campus promotion and link to your web site from our 'Participants' web page
Parking for up to 2 vehicles
Food and refreshments for up to 4 representatives
Registration
Existing CareerCentral User?
Follow the directions below:
Login to CareerCentral
Click the 

"Register Now for the hirewesternu Job Fair"

 button
Complete and submit the online form
You will receive a confirmation by email. If you do not receive a confirmation, please email kbaker25@uwo.ca or call 519-661-2111 x82683
New CareerCentral User? 
You must first create an account:
Go to westerncareercentral.ca
Click 'Register for an Account'
Complete and submit the form
You will be logged into CareerCentral and can follow the directions above to register for the Fair
Frequently Asked Questions
The Career Fair is an event that takes place in September. At this Fair, you can promote the types of career opportunities within your organization that students can pursue following graduation. You may also speak to current openings that are available, as this will help educate students about the different career options that are available. In addition to our current students being in attendance, we also see many of our alumni and community members at the Fair. These alumni and community members are often eligible for your immediate hire opportunities.
The Job Fair is an event that takes place in January. The Job Fair is for organizations who are recruiting for full-time, new graduate, summer, internship, volunteer, and co-op positions. The Job fair connects you with students, alumni and community members who are currently looking for jobs, or seeking jobs that will commence following the end of their studies (May 1st).
Students who are not in their graduating year often attend both Fairs, so that they may gather information and plan for future career opportunities.
We anticipate between 1500 and 2000 students and alumni at each of our Fairs. These students and alumni are from a broad range of academic disciplines.
Larger booths are reserved for our Platinum Fair Sponsors.  If you are interested in learning more about our sponsorship opportunities, please contact Kate Baker: kbaker25@uwo.ca or 519-661-2111 x82683
You will have access to one electrical outlet at your booth. 
We will provide wifi information when you arrive at the fair, so that you may try to connect your devices. However, we cannot guarantee connectivity or that a consistent signal will be available throughout the day.
Unfortunately no.
Please bring a sufficient supply of materials. If you require photocopies, you will need to leave the fair location and visit the University Community Centre or BooksPlus on Western Road.
Contact Paul Perret at 519-661-2111 ext 89082 or hirewesternu@uwo.ca to make arrangements for your session.